Do You Have These Issues?
Heart condition?
Liver or kidney problems?
Digestive issues?
Red dots on your torso?
Undiagnosed ailments?
Prescription drugs not working?
Chi Analysis provides high-quality herbal formulas and natural remedies. We specialize in products by Dr. Chi of Chi Health and Devita Organic Skincare.
Chi Analysis also offers health information and articles about fingernail and tongue analysis, herbal products and natural remedies for many common ailments.
Upcoming Event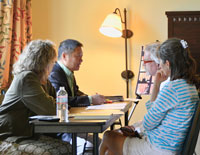 Dr. Chi Returns to Tampa Bay Area for a Fingernail and Tongue Analysis Event, Wednesday, May 24, 2017.
Author and lecturer, Dr. Tsu Tsair Chi, returns to Clearwater/St. Petersburg on Wednesday, May 24, 2017 for his yearly individual consultations. Please visit our consultation page for more details or to reserve your appointment.
---
We are excited to share our new product line!

We at Chi Analysis always strive to listen to, seek out, and offer the finest products to benefit our customers. We are very pleased to announce that we are growing our product line! In order to serve our customers better, we have been approved to offer premium natural health products from EuroMedica!
Read More about the products available from EuroMedica.
---
Did you know that you can analyze the health of your body by looking at your own fingernails and tongue? But why use the fingernails and tongue? We explain why and offer some tips on fingernail and tongue analysis in the article: Fingernail and Tongue Analysis Tips.