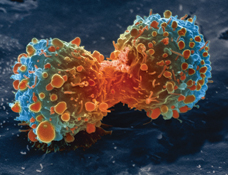 There are ways your body will tell you when something is wrong. The following are some early signs of serious conditions to be aware of.
Stomach Cancer
Many people with chronic stomach conditions have the same symptoms all the time. However, if the symptoms suddenly change, medical help is called for. For example, if you have mild pain frequently, but suddenly have severe pain and/or burning, there is a likelihood of a more serious condition.
Esophageal Cancer
One way that indicates a possibility of or risk for esophageal cancer is if you feel as if food is stuck in your throat or goes down very slowly.
Colorectal or Lung Cancer
If an adult suddenly grows soft, baby hair on their cheeks where none existed before, this could be a sign of malignant cancer, particularly lung or colorectal cancer. These cancers produce hormones that stimulate the growth of hair, starting on the cheek and spreading to the ear and forehead. In its early stages, the cancer may not be detectable by tests for a few months to a few years.
Kidney Cancer
Urinary bleeding could be associated with kidney cancer if the tumor presses on a blood vessel. If there is blood in the urine but no pain, this could indicate kidney cancer and not just an infection or kidney stone. But it is important to know the source of the bleeding.
Upon arising, measure the urine. If the first cup (200-300 ml) has blood, this means the problem is in the urethra. If the second or third cup has blood, the problem is most likely in the bladder. If all 3 cups have blood, then the problem is in the kidneys.
Heart Function
There are four symptoms to be aware of:
Shortness of breath and sometimes no energy
Frequent shortness of breath even with routine activities
Shortness of breath even with low level of routine work and easily tired.
Shortness of breath even when lying down.
The last three sets of symptoms above could indicate a high risk for heart failure.
*********************
If you experience any of the above symptoms, see your doctor immediately for testing.
There are a number of ways to prevent and avoid these conditions. Natural remedies and herbal formulations are helping many people regain their health. Check out our product offerings.
Dr Chi has developed a unique form of fingernail, tongue and bodily analysis that is getting a great deal of attention. The above tips are from his many years of work and study. At www.chi-analysis.com, we have and will continue to bring short articles of interest to you.