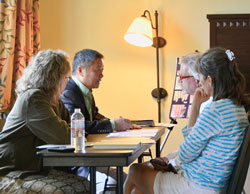 Dr. Chi Returns to Tampa Bay Area for a Fingernail and Tongue Analysis Event, Wednesday, May 24, 2017.
Chi Analysis welcomes author and lecturer, Dr. Tsu Tsair Chi, to Clearwater/St. Petersburg on Wednesday, May 24th for his annual visit, offering individual fingernail and tongue analysis consultations. 
Learn about your health through your fingernails and tongue. Dr. Chi will sit one-on-one with you for a 15 minute consultation to analyze your health. This valuable consultation is $40.00. 
Reserve your spot on our consultation page or email info@chi-analysis.com with any questions.