Dr. Chi Fingernail and Tongue Analysis Event Returns To
Clearwater, Florida
on Wednesday, August 21, 2013!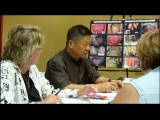 This Doctor Shows You How to Discover the Secrets of Your Health … from Your Tongue and Fingernails!
Dr. Tsu-Tsair Chi is a  Board-Certified Naturopathic Physician with a Ph.D. in Biochemistry from the Waksman Institute of Microbiology at Rutgers University. Dr. Chi, world-renowned celebrity, is the author of the best-selling books Dr. Chi's Method of Fingernail and Tongue Diagnosis and Dr. Chi's Herbal Formulas. The active ingredient in one of Dr. Chi's products, Angiostop, was headlined in the International Journal of Cancer, May, 2005 issue. Author of 21 published articles on health and cancer.
Amazingly skilled and knowledgeable at analyzing the human body, Dr. Chi can detect even undiagnosed ailments or serious illness.
 Personal Fingernail and Tongue Analysis by Dr. Chi offered one day only!   Wednesday, August 21, 2013!
$30.00 for a personal consultation with Dr. Chi.  Please have your credit card handy when logging on to our site at http://chi-analysis.com/dr-chi-visit/ where  you may use Paypal or your credit card.  No refunds please due to our small number of slots.    If you respond by email, please let us know if morning or afternoon would be better. You may also call us at 727-644-4400 for your appointment.
Limited number of consultations available. Call or email to reserve today! Learn how to diagnose your own health issues and those of your loved ones. Doctors and health practitioners can learn how to better diagnose their patients' health concerns.
 

Wednesday, August 21 for ONE DAY ONLY!   Consultations available from 9am-6pm by appointment only. Limited space available.
Hampton Inn & Suites
Clearwater-Ulmerton
4050 Ulmerton Rd., Clearwater, FL 33762
Located just west of I-275, across from Cracker Barrel Restaurant.
Reserve your appointment at this link:
http://chi-analysis.com/dr-chi-visit/
Or email info@chi-analysis.com or call 727-644-4400 to make an appointment for a personal analysis. 
Specify if you want morning or afternoon by email.
Please pass this exciting notice on to other interested parties!
 Sponsored by Chi-Analysis.