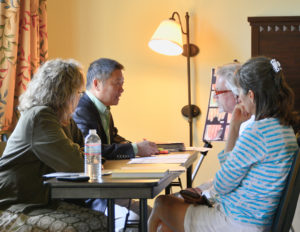 Dr. Chi Returns to Tampa Bay Area for Fingernail and Tongue Analysis Event, Saturday, April 19, 2014
One Day Only!!
Author and lecturer, Dr. Tsu Tsair Chi, returns to Clearwater/St. Petersburg on Saturday, April 19th, 2014 for his yearly event.
Dr. Chi received his medical training in China and his PhD from Rutgers State University in New Jersey.  He worked at Squibb, Parke Davis and Omicron in the fields of cancer and atherosclerosis.
He brings to us a blend of Eastern and Western medicine and his company researches and manufactures alternative medicines.   Dr. Chi is an author and lecturer and we are honored to have him as our guest.
If you have undiagnosed ailments or serious illness, you will be amazed at the knowledge Dr. Chi brings to analyze the human body.
---
Dr. Chi will also be giving a FREE Lecture discussing Fingernail and Tongue Analysis on Friday, April 18th at 6pm.
Registration is required as there will be limited seating for this lecture.
Please contact us to register for your spot and we will send confirmation of your seating.
---
Lecture and consultations will be held at the Hampton Inn located at 4050 Ulmerton Rd, Clearwater 33762. The cost for a personal Fingernail and Tongue Analysis with Dr. Chi is $30, by appointment only.
***NOTE: All spots for consultations are full. Please contact us to be added to the waiting list.***
Dr. Chi Consultation, April 19, 2014, 9am-6pm – $30.00
Please specify preference for morning or afternoon appointment in text box below.

You will be taken to a shopping cart page where you can pay by credit card or PayPal. After payment is received, we will send you an email with your appointment time. If time is not convenient, consultation fee will be refundable. Thank you!