This week we are sharing a multi-part post on Early Markers for Lung Disease. Please feel free to make comments or ask questions on these blog postings. Thank you!
Featured Story
A.E., a 52-year-old male from California, was a heavy smoker. In 2006, Dr. Chi warned him of his risk for lung cancer. He was already showing early markers of the disease: All his nails were very opaque with slight clubbing. His tongue had dry and yellowish-white coating.
Two years later, in late 2008, he was indeed diagnosed with lung cancer. He had a 7cm tumor in the upper left lobe of his lung. The doctors couldn't operate immediately because of the size of the tumor.
He immediately took Angiostop, Revivin, Reishi Spore Extract and Asparagus Extract while undergoing chemotherapy and radiation. After 6 months, his tumor reduced to less than 1cm in diameter. It was surgically removed but he still continued with his therapy. Now, more than 5 years later, he is still doing well with no recurrence.
---
Detecting Early Markers of Lung Disease
In A.E.'s case, his history of being a heavy smoker already put him at high risk for lung cancer. But there are cases where lung disease occurs even among individuals who do not smoke at all. Lung disease can range from chronic obstructive pulmonary disease (COPD) like bronchitis and emphysema to lung cancer. So how can we tell if we are at risk for lung disease?
Well, there are the obvious symptoms that we associate with lung problems. The typical coughing (with or without, phlegm), shortness of breath and chest heaviness are good signs of a lung issue, especially if they are frequent and chronic.
There are other physical markers of lung conditions that appear very early, even before the above symptoms, and are very strong indicators of lung problems:
Nail Clubbing
White coating on tongue
Geographic Tongue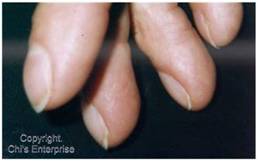 Nail clubbing is a major indication of lung disease. According to one study, nail clubbing on both hands is associated with conditions such as cystic fibrosis, Mesothelioma, Hepatopulmonary syndrome and more (Figure 1).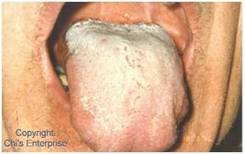 A white coating on the tongue is usually an indication of low immunity or a lung problem. A thicker coating may signify a more severe condition. You will often notice a thick white coating on the tongue whenever you have a cold or cough (Figure 2).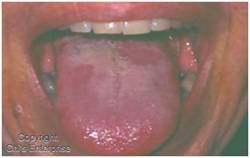 A geographic tongue is characterized by a map-like, patchy-looking appearance due to a lack of coating in some areas. It is mainly associated with sinus and allergy problems, although it may also indicate digestive problems such as colitis if there are also cracks present (Figure 3).
Coming on Wednesday:
Protocol for Lung Disease