True Stories from Our Clients
Do you know anyone with Psoriasis? Gall Bladder Disease? Pancreatic Cancer?
Please read on…….
At Chi Analysis, we are so excited to announce some more successes for our customers!
"I didn't have to have my gallbladder removed!"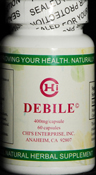 -PB, Palm Harbor, FL. She was diagnosed with gallbladder disease. Her tests showed the common bile duct was filled with gallstones and was inflamed and swollen. It measured 12 mm, while normal is 7mm.
After taking Debile for only two months, her new tests showed only one stone and the common bile duct was only minimally enlarged at 8mm.
While her surgeon was previously talking about gallbladder removal, he told her it was not necessary at this time.
---
"Within the first week, my Psoriasis started to improve!"
JA, Louisville, KY, had an extreme case of psoriasis on the soles of her feet, making walking impossible. She went on a regimen of Autocin, Myomin and Chi Happiness for autoimmune disorder (psoriasis), hormonal imbalance and depression.
Within one month, her psoriasis cleared completely. Her new doctor, not aware of the Chi products, recommended she stop taking the products since he was not familiar with them.
Within two weeks, her psoriasis came back with a vengeance. She began taking the Chi Analysis products again and in one month, the psoriasis cleared completely again! The Myomin also helped her hot flashes.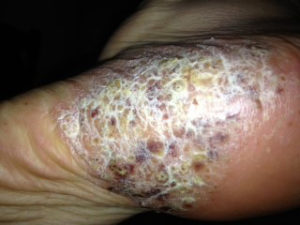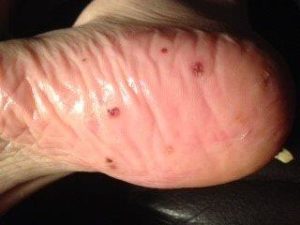 ---
"I'm back to work!"
RB, Sarasota, FL, has 4th stage pancreatic cancer. He reported severe fatigue, stomach pain and was in depression. He started taking Angiostop, Revivin and Liver Chi in March, 2015. He called us this week, in mid May and reported that he feels better, his energy has returned and he has returned to work!
His cancer marker has also decreased, though he still has some stomach discomfort, overall he is much better. He was even joking around with us.
It was a great week around our office!