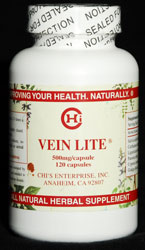 Healthy circulation through the body is important to overall health because so many of the body's processes depend on it.  The blood flow regulates cellular oxygen, controls lymphatic movement and transports oxygen to the brain, which requires 20% of total bodily oxygen intake.
Veinlite is an herbal formulation that, studies show:
*Improves blood flow by lowering blood thickness, dissolving fibrinogen and reducing platelet clotting factors
*Promotes circulation to the heart and lungs
*Improves microcirculation by 38.1% to the limbs, indicated for patients with diabetic neuropathy
*Improves cerebral function after a stroke (the third leading cause of death in the U.S.)
Physical Signs of poor circulation
*Lack of lunulae (moons) on the nailbed
*A diagonal crease on the earlobe
*Cold hands/feet
*Limb numbness
*Dark protruding veins under the tongue
*Vertical ridges on the fingernails.
Veinlite comes in a tea or capsules and is available at http://chi-analysis.com/veinlite.html calling us at 1-888-775-7689 or emailing jan@chi-analysis.com