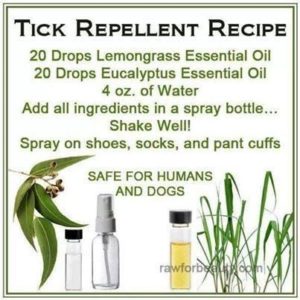 This tick and mosquito repellent recipe is a good natural alternative to mosquito sprays. You can spray it on your clothes for a hike or outside in an area where you will be sitting. 
Add 4 ounces of water to a spray bottle
Add 20 drops of Lemongrass Essential Oil*
Add 20 drops of Eucalyptus Essential Oil*
Shake well and spray
*Essential Oils can be found at local health food stores.
Please let us know if this solution works for you!