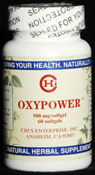 OxyPower is an herbal formula from Chi Analysis that is effective for lung congestion, and has an anti-fatigue function.   It increases the oxygen carrying capacity of the red blood cells by six times.
Those who have chest heaviness or who smoke or have been exposed to smoke will benefit from OxyPower.
OxyPower has been shown to:
Relax the bronchial muscle
Exhibit a marked expectorant action
Relieve inflammation of the bronchial mucosa.
Be useful for asthma and bronchial illnesses
Enhance immune function.
Repair and protect DNA
Increase the oxygen carrying capacity of the red blood cells by 6 times.
OxyPower  works at the mitochondrial level so it has a more lasting effect in increasing energy than coffee and energy drinks.   It is extremely beneficial not only for patients with fatigue, anemia and cancer but for athletes as well.   It has no steroids, narcotics, beta blockers, stimulants or diuretics.
Since OxyPower both repairs DNA and improves mitochondrial function, it provides anti-aging benefits and protection for cardiovascular function.
Case Studies
M.C., a 50 year old female, has gone mountain hiking twice in 2 years.  Both times she went up to 10,000 ft. and suffered from altitude sickness.  The third time, she took 2 OxyPower,  twice daily for 4 days prior  to the hike.  She reported having no symptoms of altitude sickness for the entire 3 days of her hike (even up to 13,000 ft.)
**  H. Khalsa, DC from CA, has a 67 year old patient who had her upper right lung removed due to a tumor.  She had choking like symptoms, lung discomfort and pounding in the chest.  After the first day of taking Oxypower, she felt a tremendous difference.   After two months, she had no difficulty breathing and can walk longer and can even climb a flight of stairs.  Her lung discomfort and chest pounding are mostly gone.
**A 74 year old male patient had respiratory infection, chronic bronchitis, and emphysema.  He could not take a bath by himself and needed to inhale oxygen from a tank 10 times daily.   After only one month on OxyPower, his breathing is much easier, he can bathe himself and can walk 2/3 mile.  He now only breathes  oxygen from the tank at night.  
**M. Rocco, DC from CO, has a 65 year old female patient with mitral valve prolapse.  She was to have a valve replacement and had difficulty walking due to breathing problems.   She took OxyPower and Vein Lite, and within 1 hour after the OxyPower, she had no more breathing difficulty or weakness.   Six months later, her doctor told her she no longer needs valve replacement.   The effect of OxyPower on mitral valve prolapse is attributed to its DNA repair function.
**VB from SC has had breathing problems for 15 years.  The first time she took OxyPower, she could already breathe easily after 15-30 minutes.  She can now take deep breaths and her stamina is great during her fitness class.  After 2 months on Bamboo Extract and OxyPower ,she has no more cough, she can easily take deep breaths, her fingers are pink not pale and there is no more mucus in her throat.  
**GC, from FL notices that when he takes two OxyPower before going to the gym, he can go 20 minutes longer on the Elliptical trainer machine.