Ty Bollinger is a medical researcher who recently was interviewed on the television show, A Healthy You. He discusses the benefits of the rare sea cucumber found in the South China Seas.
Sea cucumber extract is an angiogenesis inhibitor that has been used in Chinese medicine for centuries for everything from gum disease, macular degeneration, joint pain, rheumatoid arthritis to various types of cancer treatments.
Mr. Bollinger discusses that the sea cucumber can be used in conjuction with chemotherapy and will help regulate the immune system.
Angiostop available from Chi Analysis contains 1000 mg of sea cucumber extract per serving. 
View the video below for more details.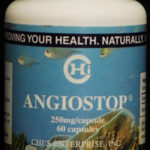 Angiostop is available to purchase from this site. View the Angiostop product page to read a flyer with case reports and research regarding this extraordinary product.