Most people don't get enough Vitamin D3. Now that daylight savings time has ended, it is even harder to get enough. This leaves you deficient in Vitamin D3 which can trigger Seasonal Affective Disorder, affect the immune system, bone health and cognitive function.
This article discusses Seasonal Affective Disorder in more detail: http://abcnews.go.com/Health/end-daylight-saving-time-kick-off-seasonal-affective/story?id=43358293 
Increasing exposure to Vitamin D by being out in the sun is one way to help. Taking a Vitamin D supplement is another.
We re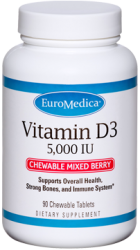 cently started carrying a new line of products including a chewable Vitamin D3.
To learn more about the Vitamin D3, visit the product page at: http://chi-analysis.com/product/vitamin-d3-chewable-5000-iu-by-euromedica/