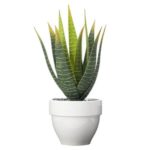 The Aloe Vera plant is very common and can be grown in the backyard in warmer climates or its stalks purchased in grocery stores. It is amazingly effective for many common ailments. The live plant contains Vitamin C, Vitamin E and Zinc. At our local chain grocery store, we can buy the aloe stalk for $1.99 each. We have learned an easy way to use the aloe gel in the plant for everyday health.
Place the aloe stalk on its back, the plumper side. With a sharp knife, fillet the underside with three cuts, one along the center and one on each side. Use the knife to slice the two outer layers away. Now, use a large spoon to scoop all the gel out and put it in a blender. Add a small amount of ice and water and blend until smooth. This makes enough for two drinks. It is best taken on an empty stomach.
After using the gel, you can use what is left in the stalks to rub it on your face, neck and any skin problems you may have. Your skin can improve greatly with this pure and inexpensive aloe treatment.
Now, here is the miracle of aloe. This drink is filled with live plant enzymes that have healing properties for the mouth, throat, esophagus, stomach and digestive tract. Aloe has a demulcent (soothing) effect and a vulnerary (wound healing) effect. It is also thought that Aloe Vera contains a molecule known as acemannan which stimulates the body to produce disease-fighting white blood cells.
Do you have a sore throat? Drink aloe. Ulcers? I know people who say they have cured their ulcers and other ailments of the stomach with this drink. Headache? Give it a try. Low on energy? It is a fatigue buster.
Last week I woke up with one of those irritating mouth sores. I sliced off a piece of aloe with the skin still on and held it on the sore for a while. Amazingly the sore was completely gone in an hour or two.
For corn and calluses, mix one teaspoon of aloe gel and ½ teaspoon of turmeric. Bandage up the area before bed with the mixture. Soak in warm water in the mornings.
Think about aloe gel for diabetic leg ulcers, burns, insect stings, cuts and canker sores. For cellulite, massage aloe into the area for 10 minutes.
There are some precautions and warnings. Do NOT take aloe if you are pregnant or a nursing mother, or have any of the following ailments: gastritis, heartburn, kidney disorders, irritable bowel syndrome, intestinal obstruction, ulcerative colitis, Crohn's Disease, hemorrhoids, or menstrual disorders.
This information is solely for informational purposes. IT IS NOT INTENDED TO PROVIDE MEDICAL ADVICE. Neither the author nor Chi Analysis takes responsibility for any possible consequences from any treatment, procedure, exercise, dietary modification, action or application of medication which results from reading or following the information contained in this article. The publication of this information does not constitute the practice of medicine, and this information does not replace the advice of your physician or other health care provider. Before undertaking any course of treatment, the reader must seek the advice of their physician or other health care provider. None of these statements have been evaluated by the FDA.