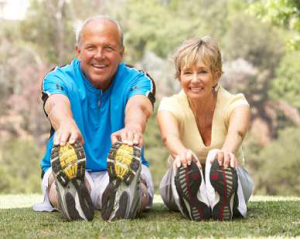 For years, women's longevity was thought to be due to estrogen. This is not necessarily so. In fact, studies have shown that giving estrogen to postmenopausal women can actually do more harm than good; estradiol has been found to increase the risk of many types of cancer such as breast, ovarian, prostate and endometrial cancer.
Furthermore, estrogen does not protect against cardiovascular disease (CVD), which is currently the  # 1 cause of death among women in the United States.
Some believe that women develop CVD later than men because of estrogen. According to Tom Perls, the founder of the New England Centenarian Study at Boston University, one of the reasons for women's longevity is that women are more iron-deficient than men due to menstruation.
Iron, when oxidized, produces poisonous free radicals that grab onto cell membranes and DNA. Since men relatively eat more red meat (primary source of iron) than women, this increases their risk for cardiovascular disease (Time. August 6, 2008).
A more recent study reinforces this concept. In a study of 2,509 multi-ethnic women, it was found that early menopause (whether natural or surgically induced) that occurs before age 46 doubles the risk for coronary heart disease and stroke (Menopause. 2012; 19(10):1081-7). The lack of a menstrual cycle can contribute to the accumulation of iron in the body; hence, the increased cardiovascular risk.
 NATURAL APPROACH TO LONGEVITY
Our natural approach to longevity involves three goals:
• Repair DNA damage
• Reduce cardiovascular risk
• Reduce estrogen-dominance and cancer risk
_____________________________________________________________________________________________
Natural Anti-Aging Supplements
OxyPower for DNA Repair and Cardiovascular Health
OxyPower has been studied and found to have both protective and reparative effects on DNA. This is obviously very beneficial for cardiovascular function and anti-aging. OxyPower also prevents the increase of C-reactive protein, a strong risk factor for atherosclerosis, hypertension and stroke.
Vein Lite for Improving Cardiovascular Function
Vein Lite primarily improves overall circulation, ensuring that there is adequate blood flow to all organs and tissues in the body. This is achieved by reducing blood coagulating factors such as fibrinogen. Furthermore, Vein Lite has also been found to reduce iron in those with excessive levels.
Myomin for Reducing Estrogen Dominance
Minimizing cancer risk is one way of prolonging life. One way to achieve this is to reduce estrogen dominance. Estrogen is now a well-known risk factor for cancers of reproductive organs. Myomin will help lower estrogen dominance by reducing aromatase expression. In past emails, we have detailed how Myomin has helped improve various estrogen-dominant conditions.
For more information and pricing on these natural anti-aging supplements, please visit the List of Products page above.