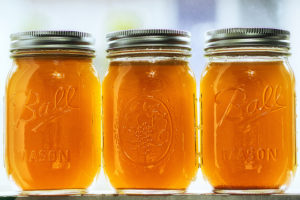 We just had a major winter storm last week and many areas are cold and snowy still.
Chicken soup and broth are very warming when you are cold, but we love to make a chicken bone broth for the additional health benefits.
What's the difference between chicken broth and bone broth?
Chicken broth is made faster than bone broth and may not use bones to make the broth.
Bone broth uses bones, vegetables and seasonings and is slow simmered for at least a full day (using a pot or slow cooker). By simmering for a long period of time, nutritious compounds and minerals (such as collagen, glucosamine, amino acids, calcium and more) are released into the broth.
What are the benefits of Bone Broth?
The minerals and compounds in the bone broth can help reduce joint pain and inflammation.
Calcium, magnesium and other nutrients can promote strong, healthy bones.
Gelatin can help heal and seal the gut and promotes healthy digestion as well as promote healthy hair and nail growth.
Broth is also very filling for those who may be trying to cut calories.
A study over a decade ago showed chicken soup inhibits infection caused by cold and flu viruses.
---
Bone broth recipe (recipe by A Pinch of Healthy)
We recommend using organic chicken and organic vegetables in your bone broth to reduce pesticides in your food.
Ingredients
Bones from a whole organic chicken
2 stalks of celery, roughly chopped
2 large carrots, roughly chopped
3 cloves of garlic, peeled and smashed
1 onion, quartered
2 tablespoons, apple cider vinegar
Fresh herbs such as parsley and thyme
Salt and pepper to taste
Cold water to cover chicken by about 3-4 inches
2 bay leaves (optional)
Instructions
STOVETOP
Place the chicken bones into a 12-quart stock pot, and cover with water.
Add the veggies, herbs and apple cider vinegar.
Bring to a low boil.
Reduce heat to the lowest setting.
Partially cover, and simmer for at least 5 hours. You can cook it longer, but I would say no less than 5 hours. The longer the better!
Strain and store in the refrigerator.
SLOW COOKER
Place all ingredients in a slow cooker, and fill with water. Cook on low for at least 12 hours, up to 24 hours.
Use a strainer to separate the liquids from the solids.
We also like to freeze the leftover bone broth so we can have it any time during the year.
Please let us know how you like this recipe and be sure to share with your friends and family!