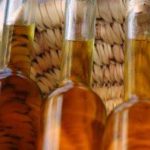 Hi!
Want to hear about an inexpensive natural remedy you can buy in your grocery store? Try Oil Pulling!   Never heard of it?    I had not either, but it sounds like it could be for real.
Just swish 1 tablespoon of either sesame oil or sunflower oil in your mouth for 15-20 minutes before breakfast. Use only cold pressed oil. I like sesame oil better myself.  Then spit the remnants of the oil in the toilet. The idea is that the oil absorbs toxins from the body, so you don't want it in the sink. Then brush your teeth and rinse out your mouth.
I have done this 10-20 times and notice that my skin and lips were much moister.
But if you look on the website http://www.oilpulling.com/, you will find all kinds of health claims by a doctor and lots of testimonials. Serious ones!   Some claim whiter teeth, relief from joint pain, moister skin, even reversal of serious disease.

Continued…
Of course, I cannot promise anything but my friend, Diane, does this everyday since I suggested it and she says her gums are much healthier. Like most things, remedies take a while to work, but check it out! It seems harmless enough!